LABORATORY OF HIGH-PRECISION OPTICAL METHODS OF MEASUREMENT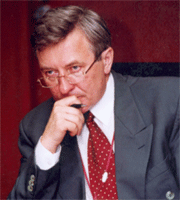 Head of the Laboratory -
Corresponding Member of RAS Yu. N. Kulchin
Staff
Total - 14
Researchers - 11
Dr. Sc. - 4
PhD - 3






Main Research Directions
The development of physical methods of nondestructive investigation of processes in deformable continuous media; principles and means of real-time monitoring of physical fields accompanying them.
Dynamic holography in photorefractive crystals and the development of adaptive methods of processing all-fiber interferometer signals on their basis.
Correlation methods of processing electronic speckle interferograms.
Research into optical properties of natural and artificial nanostructures and into the interaction between laser radiation and nanostructures.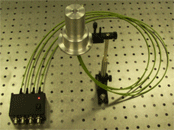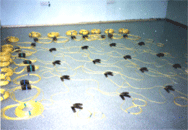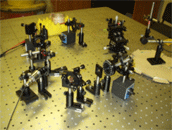 Principal Results
Fundamental processes of NLO interactions between dimensionally incoherent light waves in photorefractive crystals have been investigated.
A research has been made into the dynamics of changes in the speckle radiation field patterns at the outlet of a one-fiber multimode interferometer.
Fundamental and applied research has been made into the development of hardware components of fiber-optic measurement networks for creating "sensitive surfaces".
Physical and technological grounds of developing mobile and scalable segment-type fiber-optic measurement network have been elaborated.
Methods of dynamic object recognition based on AI technology have been developed.
Processes of dynamic scattering of coherent radiation in liquid-phase nanocomposites have been investigated.
Representative Publications
Kulchin, Yu. N. Distributed fiber-optic measurement systems. Moscow, Fismatlit Publishers, 2001, 272 pp.
Kulchin, Yu. N. Adaptive distributed optoelectronic information and measurement systems. UFN, 2003, vol. 173, No.8, pp.894-899.
Kulchin, Yu. N., Romashko, R. V., Shandarov, S. M., Burimov, N. I. et al. Adaptive speckle interferometer on the basis of a photorefractive reflecting-type hologram. Reports to the Russian Academy of Sciences. Physics Series, 2005, vol. 69, No.8, pp. 1143-1145.
Kulchin, Yu. N., Panov, A. V., Denisov, I. V., Rybalchenko, N.A. Neural network methods of reconstruction tomography problem solutions. Optical Memory & Neural Networks, vol. 14, No. 1, 2005, pp. 45-58.